Queen Elizabeth II and her Dogs
Patron of the Kennel Club, Queen Elizabeth II celebrated her Golden Jubilee in June of last year. The Kennel Club looks back on her life and her love for our canine companions.
Queen Elizabeth II has always had a keen interest in dogs which was inherited from her parents. Before her father ascended the throne, he and his wife kept Pugs (as well as Cairns), which had been introduced into Britain by William III and had been popular with Queen Alexandra. The then Duchess of York (the Queen Mother) exhibited her beloved Pugs in America and Paris with a great deal of success, usually accompanied by her husband, who appeared to enjoy every minute of the experience.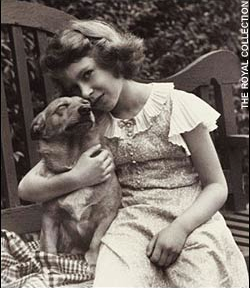 Upon his ascension to the throne, King George VI and wife remained attentive to animal welfare. Firm supporters of the RSPCA, the King was renowned for his excellent speeches on animal welfare issues. Arguably, the King achieved the greatest field trial successes with his working dogs above any other Royal and the Queen had already owned several different breeds of dog.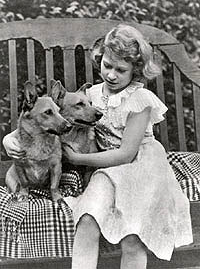 His daughters Princess Elizabeth and Princess Margaret were also keen animal lovers, and took a particular shine to a Welsh Corgi puppy owned by Viscount Weymouth. They told their father and within a few days the Royal household had taken possession of a puppy called 'Dookie'. The rest, as they say, is history and the current Royal Family had started their love affair with this addictive breed!
The Duke and Duchess actively encouraged their daughters' interest and before long dogs were streaming into the household in the shape of a further Welsh Corgi, a Tibetan Spaniel and three Labrador Retrievers.
Many photographs were taken and pictures painted of the Royal Family and their dogs at this time. These photographs were then reproduced all around the world, particularly drawing attention to the Welsh Corgi and aiding its popularity. Prior to the Royal connection, this breed was relatively uncommon in the UK. Their numbers were gradually increasing at the Palace, Princess Elizabeth in particular being very drawn to their sweet, yet slightly volatile nature! Princess Margaret was more drawn to her Sealyham Terriers.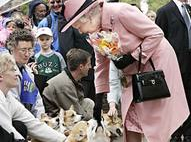 In 1953 the King died, and Princess Elizabeth became Queen. She had been surrounded by dogs all her life, so it was therefore only natural that both she and her Mother continued to keep their interest very much alive. They began to meticulously plan their own breeding programmes with the Corgis and in 1955 gave Prince Charles and Princess Anne a puppy each from a litter that they had bred.
Today the Royal Family continue with their love of dogs, passed down from their ancestors. The Queen is rarely without her Corgis, as she travels between Buckingham Palace, Windsor Castle, Sandringham and Balmoral. When the Queen is at home she insists on feeding all the dogs herself, mixing each bowlful to the pet's individual taste. The media continues to show a great interest in the lives of the Royal Family, their Corgis and the sometimes amusing tales that come to light. In most photographs where she is relaxing, you will more often than not see at least one of her Corgis close to her. The Queen also keeps Labrador Retrievers and various Spaniels as gundogs and some of her Corgis have had 'accidents' in the past with Princess Margaret's Dachshunds, to produce dogs fondly called 'Dorgis'!
It is not just the Queen who continues the royal tradition of dog keeping, as all her children have followed suit. Princess Anne has an interest in Greyhounds, Labrador Retrievers, Bloodhounds, Clumber Spaniels and a Bull Terrier. Prince Charles favours Labrador Retrievers and Terriers and Princes Andrew and Edward favour gundogs.
The Royal Family has long appealed to the British public because it is a family and like many British families, there are always dogs around the place. Dogs remain firmly in the hearts of the Royal Family and long may this unofficial tradition continue.
The Queen currently owns four Corgis called Pharos, Swift, Emma and Linnet; three 'Dorgis' (Corgis crossed with a Dachshund) called Brandy, Cider and Berry and five Cocker.